Playmaker Camp
Creativity/Game Awareness Training
Girls and Boys Summer Camps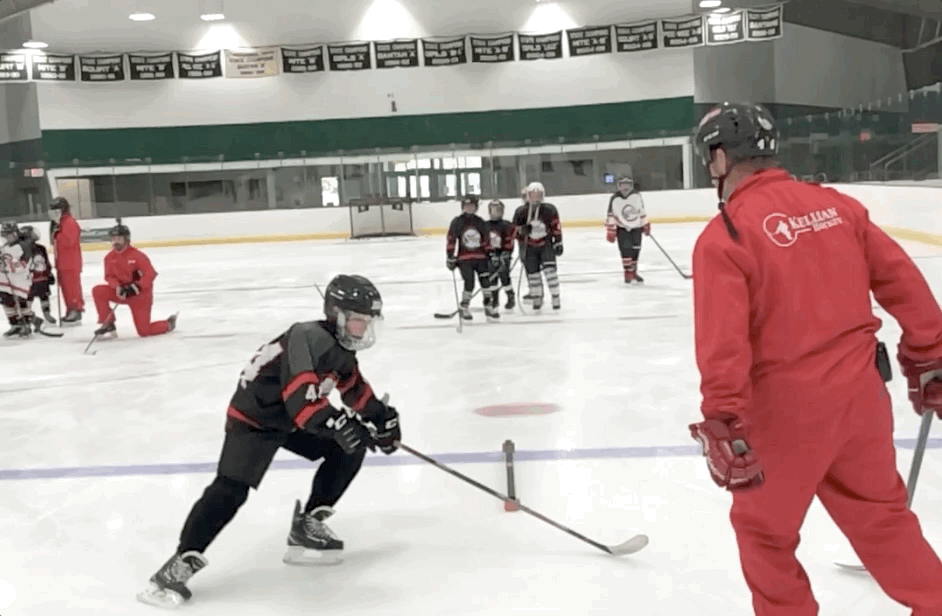 The Kellian Hockey Creativity/Game Awareness Summer Camp is geared towards players who want to improve on their ability to predict, create, and to speed up their decision making skills. With a low coach to camper ratio, each skater will receive a lot of personal attention. Hockey is very fast. Every 3-5 seconds, the environment of the game completely changes. Learning to adapt with those changes, understanding where to go when you do not have the puck, and learning different creativity strategies are all part of this summer camp.
A typical day at camp... drop your kids off for an off-ice stick handling clinic at 8:45 am. Morning ice time at 10:00 - 11:00 am. The morning session focuses on fundamental edge and balance techniques coupled together with stick handling technique and strategy. Kellian hockey camps target select fundamental techniques that allow a player to quickly transition into performing more advanced moves increasing their ability to be more creative and effective.
Then we break for lunch. After that, we get into our off-ice activities. We will be engaging in various activities that develops a player's general athleticism with games that include disc golf, Broomball, Ultimate Frisbee, 4-square, etc. The focus with the off ice activities is to further develop general athleticism and to further learn prediction strategies by creating a plan before the player gets the puck. The second ice time goes from 1:45pm to 2:45pm. You can pick up your kids after 2:45pm.
The Kellian Hockey philosophy revolves around the idea that depth in fundamental technique encourages creativity. A player will develop their own style over time... so instead of offering an extensive breadth of skills to learn over the week, we focus on key fundamentals, and work on them deeper.
​
Boys only session: ages 9 through 12. Girls only session: ages 9-14. Players younger than 9 will be considered with a recommendation from their current coach. $50 non refundable deposit due at booking. $200 due May 1st, and the remainder is due June 1st. Payments not made in a timely manner may result in the loss of your spot to players on the waitlist.